Bryce Gibbs played 231 AFL games for Carlton and a further 37 for Adelaide, where he finished his career at the end of last season. But before his top-level playing days, Gibbs was a teenage prodigy, destined to be pick one at the 2006 draft due to a string of eye-catching performances in the SANFL. The former Blue and Crow, the joint winner of the 2021 Magarey Medal, chatted with aflplayers.com.au about precocious South Adelaide teammate and possible No.1 draft selection Jason Horne-Francis.
Words from Bryce Gibbs
There was a little bit of hype around Jason.
I remember meeting him for the first time and he was a little bit shy, a bit reserved, but he came out of his shell at training, especially when we were muscling up against each other during drills.
I'll never forget one of the first times we were doing match simulation at training.
I ended up one-on-one with him out on the wing, and the ball was about to get kicked to us from half-back.
I said to him, 'You wouldn't want the ball to be kicked out here', and he looked at me and was like, 'Mate, I want them to kick the ball out here because I'm going to sit on your head and take a hanger'.
He's got this bit of cheek – certainly not arrogance – but this confidence about him. The competitiveness comes out as soon as he steps onto the footy field, but away from that, he's certainly a very humble and respectful kid.
He just wants to win. He hates losing. Whether that's one-on-one, at a stoppage, in a marking contest, he just hates getting beaten.
There was that Darcy Fogarty incident when Darcy tried to run through him when we played the Crows, and you could just tell, Jase's steeliness, he knew he wanted to lay the tackle. Those are the sort of attributes that I think are going to take him a long way.
We've had similar paths. I was lucky enough to play about 30 League games of footy before I got drafted, and I think he'd be about the same. I went through similar pressures and speculation — number one, not number one, where you're going to land — all that sort of stuff. He's leant on me when he's needed to, but it hasn't been too often, because he's taken it in his stride as the year's gone on. It's a credit to him.
It's not easy, especially in Adelaide where everyone's so passionate about their footy. A lot of people are talking about him on the radio and in the paper. It can be a bit of a distraction for some, but with his performances playing League footy, it hasn't affected him too much.
I've been working closely with a lot of the under 18 players, and we've got a WhatsApp group. I'll send a message saying, 'Alright boys, get in early today. We're going to go out and do some extra touch or some extra body work stuff.' Those sessions were never compulsory, but he'd always show up.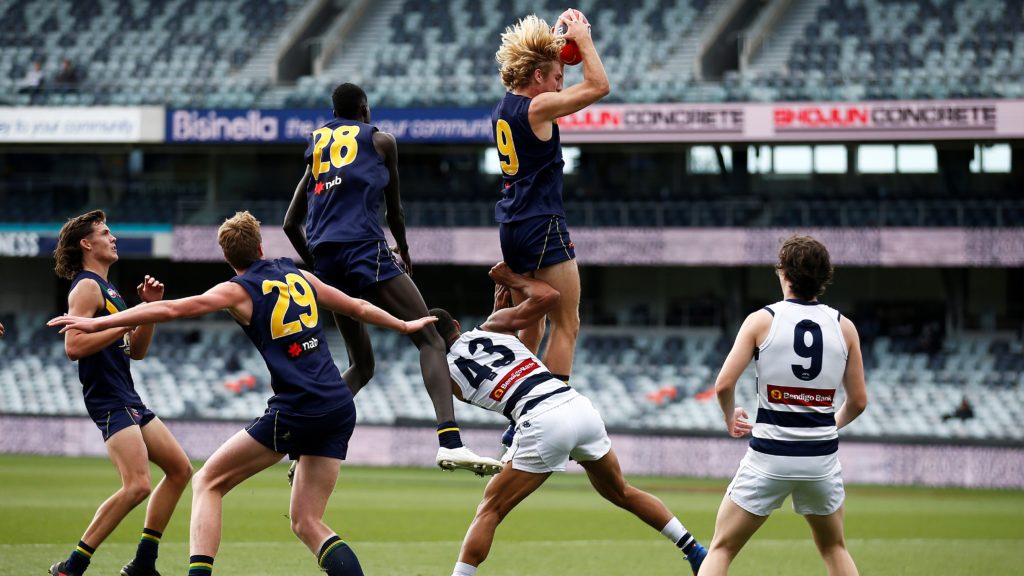 It was good to work with him at training and help develop his skills, but I think one of the biggest advantages we had at South was that I could actually be there with him on game day and go through everything with him in the heat of the moment.
In a game-day sense, I played with him through the midfield. There were times where he was running hot and I'd be like, 'Mate, we're going to you with every centre bounce here, because no-one can go with you'.
He's ready for AFL footy. He's good to go. He saved his best for his last game in the prelim final — 24 touches, three goals, 11 clearances — against Glenelg, who had won 17 games in a row. They've got a really strong midfield, so for him to do that against that sort of quality, it shows that he's ready-made.