It took Jai Newcombe just one match to engrave his name into the history books.
The 19-year-old, selected by Hawthorn with the second pick of the mid-season draft, broke the AFL/VFL record for most tackles laid by a debutant with a match-leading 14.
Clearly, Newcombe has no interest in wasting his time on the big stage.
After all, his phenomenal evolution from precocious senior footballer at Poowong to record-breaking first gamer at Hawthorn spanned only six games in the VFL, where he suited up for Box Hill under coach Sam Mitchell's tutelage.
But the burgeoning midfielder's tale is not merely one of rapid development. In fact, it's a story of perseverance.
In 2018, Newcombe was invited to train at NAB League club Gippsland Power as a potential bottom-age recruit. But in the first round of pre-season list reductions, he was cut.
Ted Attenborough, Poowong president and under 18 coach, can recall the beginnings of Newcombe's football journey.
"When he was 15, 16, he wasn't overly tall or anything like that, but he was always very competitive," Attenborough told aflplayers.com.au.  
"With his footy, he was a kid who would be down at the club on a Sunday running laps on his own or kicking the footy down there. He was always pushing himself.
"He's always had good ball sense. For just knowing where the footy is, he'd be right up there.
"But that was [Gippsland's] decision, and he got cut. To our advantage, he played with us in the seniors and in 2019 he had a really good year. He was well up in our best and fairest, and for the league he got the best under-18 in the seniors best and fairest."
Newcombe's 2019 season in Poowong's black and white stripes forced Gippsland to again take notice.
He was offered a spot on the Power's list as an "over-age" player for 2020.
The pandemic soon swept in and cancelled the NAB League season, but Newcombe had already impressed enough to earn an opportunity to train with Box Hill. This time, he not only survived each stage of list-cutting, but also cemented his place in the VFL club's best 22.
"It's been a phenomenal rise to where he is now," Attenborough said. "A few around the club could see that Jai had talent. Did we think then that it would carry him through to where he is? No, that'd be stupid to say, but we thought he was going to be a pretty handy player.
"He's had to work hard. He's hit the gym and he's certainly bulked up. You can have all the muscles and all that sort of stuff, but the talent has still got to be there, and that's one thing he's had all along. He's had football talent and football nous."
"When he turned up to Box Hill in October it would've been a one per cent chance, then as he got on the list it goes to two, when he gets a game it goes to maybe five, and obviously from then on it snowballed…" – Clint newcombe
Described as "a really likeable young country bloke that'd fit in anywhere", even when Newcombe began to impress in the Poowong seniors, he regularly offered to double-up and play another game in the under 18s on the same weekend.
"A lot of young blokes, when they go up into the seniors, sometimes can be inclined to forget their own age group," Attenborough said. "But not Jai. He'd come along and see that we were short.
"That's the family background they have. Clint, his father, played over 300 senior games. He looks after the oval and does a lot around the ground, so Jai's been brought up in that environment where what you get out is what you put in."
Father Clint was one of six family members, along with Newcombe's girlfriend, Georgia, to attend his son's debut.
"It was fantastic. He's worked pretty hard, so we were obviously very happy for him and nervous at the same time, but proud of what he's achieved in such a short time," Clint Newcombe said.
"People say [he made it to the AFL] the hard way, but I don't see it that way. That's just how it was for him. He wasn't good enough as a junior to get through to 'Gippy' Power, [but] was going to play as an over-ager before COVID hit. He was fortunate enough to get a call from Box Hill and it's just transpired from there.
"I've heard people say that because he wasn't in the system it was difficult, but it is what it is. We're happy for him that it's turned out how it has."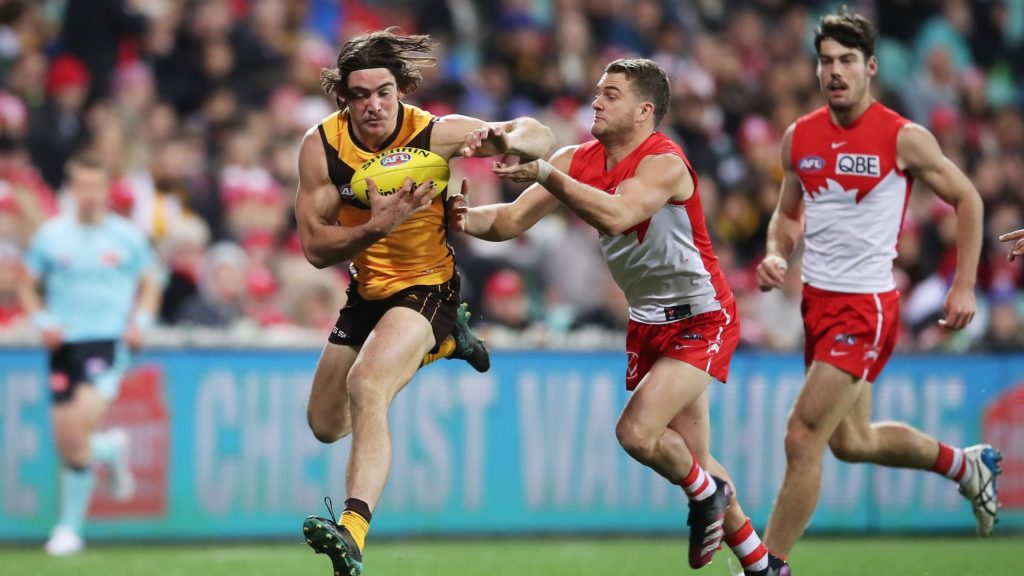 Newcombe added that while the prospect of his son one day playing AFL football had crossed his mind as a possibility, it was never seriously considered until just weeks ago, when a string of eye-catching performances in the VFL elevated the bustling midfielder into mid-season draft calculations.
"When he turned up to Box Hill in October it would've been a one per cent chance, then as he got on the list it goes to two, when he gets a game it goes to maybe five, and obviously from then on it snowballed and that percentage rate increased as he nominated for the draft. It all happened really quickly."